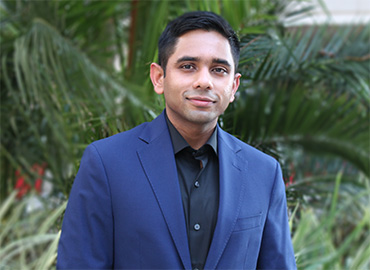 Abhi Ayyannagari, PE
Abhi Ayyannagari has experience with complex projects requiring coordination between multiple disciplines, internally as well as externally. He has experience with the Design of Electrical Distribution Systems for a variety of projects such as Healthcare, Mission Critical, Commercial, and Civic. He also has extensive experience in the Commissioning and testing of Electrical Distribution Systems. He is skilled in Short Circuit, Arc Flash and Overcurrent protective device coordination studies.
Abhi is highly proficient in Revit, AutoCAD, SKM Power Tools and EnergyPro. He focuses on achieving constructability, efficiency, reliability, and flexibility while ensuring that projects are met on time and within budget.
Fun Fact: Abhi has travelled to 9 countries so far, and lived in 4!

M.S. Electrical Power System Engineering
California State University, Northridge
B.S. Electrical and Electronics Engineering,
Osmania University, India

Associate
Licensed Professional Engineer
9 years Industry Experience
5 years with iFactor

Mission Critical
Healthcare
Commercial
Civic